Love is the foolishness of men, and the wisdom of God.
Victor Hugo – Les Miserables
When Louis XIV ascended the throne of France on the 14th May 1643, France was embattled by neighbouring states, impoverished by years of constant warfare and imperilled by feuding factions. When he died 72 years later, France had been transformed into the greatest power in Europe with the Sun King (Louis XIV) at its helm. "L'Etat – c'est moi" was the phrase which aptly summed up The Age of Absolutism of which Louis XIV was the apotheosis.
Along with Cardinal Richelieu (his religious advisor), Jean-Baptiste Colbert (his financial advisor) and the Marquis de Louvoir (his war advisor), there was arguably no greater architect of Louis's military success than Sébastien Le Prestre de Vauban.
According to local parlance, a place besieged by Vauban was a place taken, but a place defended by him was impregnable.
During more than fifty years spent in the service of King Louis XIV , Vauban designed more than 50 defensive positions and refitted more than 300 existing ones.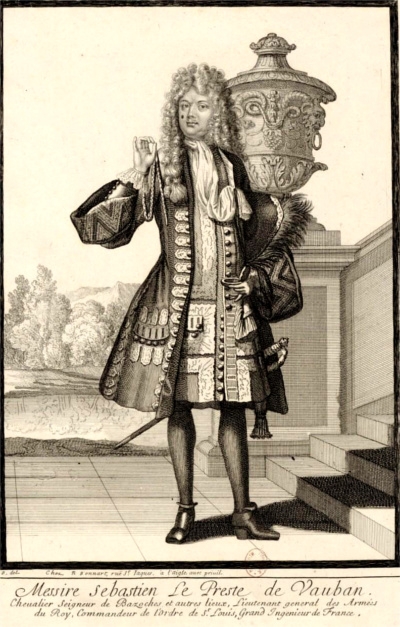 Entering the army at the age of eighteen, Vauban quickly distinguished himself for his bravery, spying behind enemy lines on a number of occasions.
During his first six years as a military engineer , he took part in 14 sieges and was wounded several times. Seeing his companions die, he came up with the concept that would underpin his work: to multiply work is to save lives .
Vauban inaugurated his system of defensive fortification in 1673 at the siege of Maastricht. He devised a system if of zigzag trenches which avoided cross fire and together with many other innovative defensive techniques, rendered his fortifications virtually impregnable.
There are no finer examples of Vauban's work than the citadel at Besançon. Construction, at the behest of Louis XIV, began in 1678 was completed just 5 years later in 1683. Such was the cost of Vauban's defensive scheme that Louis XIV was heard to inquire whether the walls of the citadel were made of gold!
The innovative defensive scheme which Vauban integrated into the design of the citadel made it virtually impregnable and formed the benchmark for defensive installations for the next 300 years. It is no exaggeration to describe Vauban as the creator of modern defense fortifications and the progenitor of trench warfare.
Walking around the citadel I couldn't help but be struck by a couple of things. The size of military recruits 300 years ago was minuscule! Recruits in the French army in the 17th century were aged between 14 and 50. The most junior ranks only had to stand 5ft tall ( this was waived in times of warfare!) while the most senior recruits (King's Household Cavalry) had to be at least 5ft 5 inches tall!
Had I not blotted my copy book on a CCF exercise on Salisbury Plain in 1981, that could have left me well on the way to achieving multiple 'pips' on a career in the army, I thought to myself wistfully as I wandered around Vauban's masterpiece.
As I emerged from the Citadel, I couldn't help but notice a?number of apes sunning themselves on the sides of the Citadel's moat. These were 'Gelada' baboons, and the rocky outcrops of the Citadel moat provided a similar habitat to their native habitat in the Ethiopian highlands.
Vauban wasn't born in Besançon, but another of her favourite sons with a 'V' in their name, was. Victor Hugo was born in Besançon in 1802 in the same square as the Lumière brothers, the founders of modern cinematography.
Although he lived most of his life in Paris, his childhood experiences of growing up in Besançon had a seminal impact on shaping his literature and his outlook on life.
Wandering around the Victor Hugo museum in his childhood home was a humbling experience. Despite watching 'Les Mis' on countless occasions, I had little inkling of Victor Hugo's evangelical crusade against the inequities of poverty, the death sentence and childhood labour, all themes woven into the fabric of his greatest work 'Les Miserables'.
Besancon's history dates back to Roman times – it features in Caesar's account of the Gallic Wars and it features on the path down from the Citadel in the form of the beautiful triumphal arch, known as the Black Gate, erected in 175 AD to commemorate the triumphs of the Roman Emperor, Marcus Aurelius.
Heading back towards the Diocesenal house, I briefly dropped in to look around the church of Saint-Maurice.
Dimly lit and rather lugubrious, its effigies of Joan of Arc and Saint Expedit, the patron saint of travellers, were its most impressive features.
As lunchtime approached I decided it was time to go in search of 'gaffer tape'. A quick Google search of ' bricolage' (DIY) suggested there was a DIY store called 'DK Fermetures' that was located less than 2km away. After 20 minutes of risking life and limb by jay walking and traffic dodging, I reached the DIY shop. It was closed, and judging by the heavy bars on its windows, it was unlikely to open anytime soon.
Undeterred, I headed further down the street. Maybe there was a cluster of DIY shops in the neighbourhood where I could discover a stash of 'gaffer tape' or whatever its French equivalent was. I had psyched myself up by practising asking for gaffer tape in French: "Excuisez-moi, mais ou est Le Gaffer Tape?"
Thankfully I soon came across an industrially sized supermarket that occupied several football pitches. If ever there was going to be somewhere which sold 'Gaffer Tape', this place was surely it.
Sure enough, I had hit the jackpot. Not only did the supermarket stock 500g packs of spiced chopped carrots, tins of mackerel in mustard and elemental and ham Triple sandwich packs, but they also stocked 'gaffer tape'. What more could a pilgrim, with an empty stomach and a knackered pair of boots, desire?
Back on my room at the Diocesonal House, I set about covering the holes in my boots with 'gaffer tape'. I'm not sure what a cobbler from Northamptonshire would have made of my hamfisted efforts at boot repair ("cobblers"?) but there was little other choice. I had dropped into a sports shop on my way back to my rooms to enquire about the possibility of purchasing a pair of size 12 Meindl Mid Respond GTX boots.
The shop assistant had looked at me as if I was mildly deranged before replying that it would make at least 10 days to order in the Meindl boots I wanted, while they didn't stock any size 12 boots. Ah well, I thought to myself back at the Diocesanal centre, it looks like the final two weeks of my walk are going to be in the lap of the Gods and the reliability of 'gaffer tape'. What could possibly go wrong!