What miserable drones and traitors have I nurtured and promoted in my household who let their lord be treated with such shameful contempt by a low-born cleric!
The Life of St Thomas – Edward Grim
On the evening of 29th December 1170. Shortly after Becket had finished celebrating Vespers, four knights burst into Canterbury Cathedral and savagely hacked him to death. Such was the ferocity of the attack that Becket's skull was severed in two and the sword that delivered the fatal blow shattered on the stone floor of the Cathedral.
Edward Grim who was an eyewitness, described Becket's murder in graphic detail:
"But the third knight inflicted a grave wound on the fallen one; with this blow he shattered the sword on the stone and his crown, which was large, separated from his head so that the blood turned white from the brain yet no less did the brain turn red from the blood."
Becket's murder was first recorded in a letter written by John of Salisbury (d. 1180), who was an eyewitness to the event. A copy of this letter is included in an early collection of letters assembled by Alan, the prior of the Cathedral from 1179 –1186 and later abbot of Tewkesbury (d. 1202), where it is illustrated by the earliest known representation of the murder.
The images included in this manuscript narrate the sequence of events. In the upper register the Archbishop is at table when a messenger announces the arrival of the four knights, outside the door to the right. Below, having taken up arms, the knights enter the cathedral and attack Becket while he is kneeling before an altar. The knight wielding the sword may be Reginald Fitzurse, if the small animal head on his shield can be identified as a bear (ursus is 'bear' in Latin). To the right are four prostrated figures who venerate St Thomas at his tomb, perhaps representing the later penitence of the knights.
Within three years of his murder Becket had been credited with over 700 miracles (including the restoration of a Befordshire peasant called Eilward's manhood after he had been blinded and castrated as punishment for stealing goods from his neighbour!) leading to his canonisation by Pope Alexander III in 1173.
Becket's murder made him one of the most celebrated saints in the Middle Ages, and established Canterbury as the centre of a pilgrimage cult, attracting over 100,000 pilgrims a year, that embraced the whole of the Latin west. From Trondheim in Norway to Monreale in Sicily, churches, chapels and altars were dedicated to Becket, and the feast of St Thomas the Martyr was universally celebrated. Iceland had its own saga of Thomas the archbishop and 11 Thomas churches!
For over 200 years until the emergence of St George during the Hundred Years War, Thomas Becket was England's de facto patron saint. The fact that nowadays most people are completely unaware that December 29th is Thomas Becket's feastday is largely down to the success of one person in eradicating Becket from the public consciousness. In 1538 Henry VIII embarked on a systematic programme of destroying the national network of monasteries, eradicating shrines to saints and prohibiting pilgrimages to holy sites. Thomas Becket became public enemy number one – his shrine at Canterbury Cathedral was destroyed and Henry VIII decreed that all references to Becket as a saint should be completely erased.
The reason for Henry VIII's almost pathological hatred for Becket isn't hard to fathom. Quite simply Becket was the most powerful symbol of the clerical defiance which Henry VIII loathed – the man who, according to the most popular late medieval account of his life, had bluntly told Henry II that 'I am head of the church of England'. Henry VIII had claimed that title for himself and called anyone who doubted it a traitor. If there was one thing no English parson would want to be caught doing, it was honouring that turbulent, treacherous priest.
The shadow of Thomas Becket was much more apparent on my walk than a previous Archbishop of Canterbury, Sigeric the Serious, who is credited with writing the first itinerary of the Via Francigena in 990 AD as he detailed his return journey from Rome to collect his pallium from the Pope.
Becket's prominence wasn't all that surprising on the stretch of my walk from Winterbourne Stoke to Canterbury which followed the pilgrim route to Canterbury and took me past the parish church of St Thomas and St Edmund in Salisbury, Clarendon Palace (where Becket defied Henry II's attempt to subject 'criminous clerks' to trials in secular rather than ecclesiastical courts in 1164)
to Otford (where Becket stayed during his first year as archbishop in 1162 and where he is said to have struck the ground with his crozier to obtain water) to Kemsing (where the knights who murdered Becket are supposed ridden through on their way to Canterbury) to Charing (where Becket frequently stayed in the palace) and Harbledown (from where Henry II dismounted to begin his walk of penance into Canterbury on 12 July 1174.
So it was quite surprising that I frequently encountered Thomas Becket during my walk on the Via Francigena. Becket didn't travel along the Via Francigena to Rome to collect his pallium from the Pope after he became Archbishop in 1162 for two reasons. Firstly, Henry II refused to let him leave England and secondly because the Pope (Alexander III) had been chased out of Rome by Frederick Barbarossa and was seeking refuge in France.
In large part that reflects the fact that Becket spent so much of his life on the continent. Although Becket was Archbishop of Canterbury for nine years from 1162 to the end of 1170, he spent six of those years, from 1164 to December 1170, in exile in France.
But even before his flight and exile to France in 1164, Becket was no stranger to Europe. Although he was born in London in 1118 and grew up in Cheapside, he spent a year at Paris University in 1137, travelled to Reims in 1148 while working as a clerk for Archbishop Theobald and as Henry II's Chancellor in 1158 led an embassy to Paris to meet the French King Louis VII which included 200 mounted followers, equipped with 24 changes of clothes, several packs of hunting dogs, falcons, hawks and 12 pack horses each with it's own groom and a monkey on it's back!
Canterbury Cathedral, which marks the start of the Via Francigena, was largely rebuilt in the gothic style between 1174 -1184 after a fire ripped through the cathedral in 1174, the year after Becket was canonized. Some historians believe the fire was deliberately started by monks at Canterbury who were jealous of the prominence of Durham Cathedral and wanted to rebuild Canterbury Cathedral to house the shrine to Saint Thomas.
Nine years after Becket's murder, Henry II spent vast sums transforming Dover Castle into his most powerful fortress as a direct result of the Becket cult. Until Becket's canonisation in 1173, which triggered a flood of pilgrims from Europe to visit his shrine,Kings of England had never spent much time in Kent. For one thing, Dover was not on their normal route to Normandy – they usually sailed from Portsmouth or Southampton. For another, the Crown held very little royal land in the county.
However, Dover stood on the shortest sea-crossing from the Continent, and foreign pilgrims were arriving there on their way to Becket's shrine. In 1177 Philip, Count of Flanders, came; Henry met him at Canterbury and escorted him back to Dover. And in the summer of 1179, Louis VII of France himself arrived. His only son, the 14-year-old Philip, was seriously ill. Louis had known Becket well, having sheltered him in France. Faced with this supreme crisis, he resolved to travel to Canterbury to pray at Becket's shrine.
So Henry escorted Louis, together with a large suite of nobles and courtiers, to St Thomas's shrine in the crypt of Canterbury Cathedral, where the kings prayed together. Louis then returned to Dover, where he spent the night before embarking for France.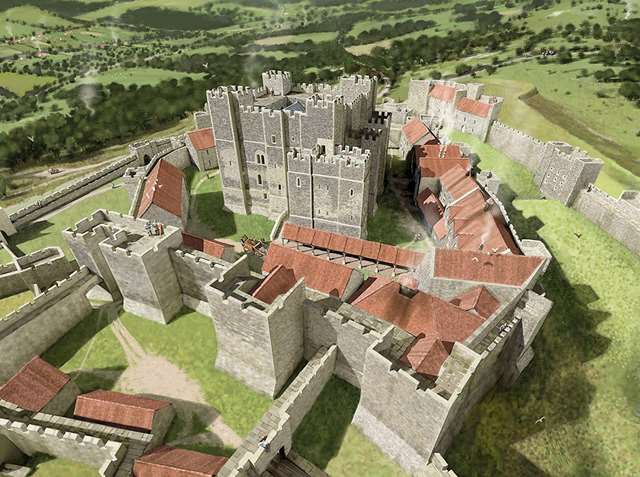 It seems to have been these extraordinary events that prompted him, almost immediately after Louis' visit, to undertake one of the greatest building projects of the Middle Ages in England. Between 1180 and his death in 1189, Henry carried out the first stages of a massive, and costly, rebuilding of Dover Castle. Continued by his sons Richard and John and completed under Henry III in the 1220s, the rebuilding turned Dover into the second largest fortress in Britain, after Windsor.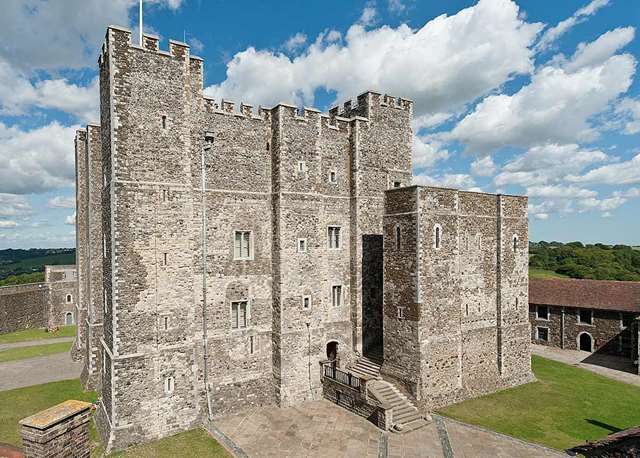 The forebuilding (right) provides a long and complex entrance route, with the stairs rising to the second floor, and would have allowed for elaborate welcome ceremonies
At the centre of the castle, Henry II built the 'great tower', the last in a long succession of palatial keeps in France and England going back to the 10th century.
The great tower was so big as to be visible from far out at sea – a symbol of authority to all approaching visitors. Its colouring, with bands of white stone against knapped dark-grey rubble, heightened the effect.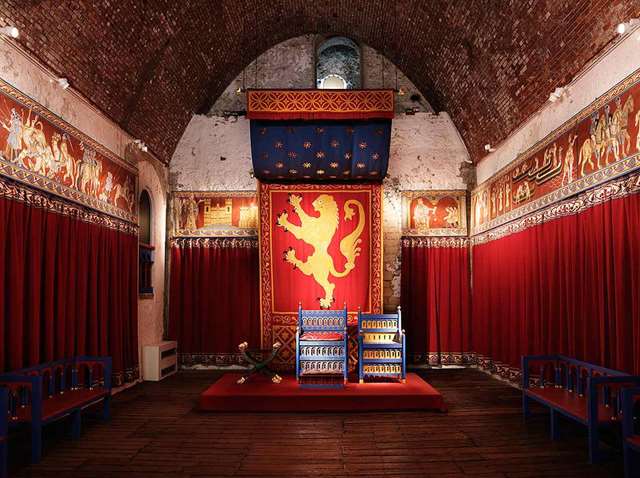 The tower was clearly intended for grand entertainment and state occasions, more than for everyday life. A suitable setting for ceremonial entrances and exits, it was also an impressive residence where high-ranking pilgrims to Canterbury could be received and stay in regal surroundings.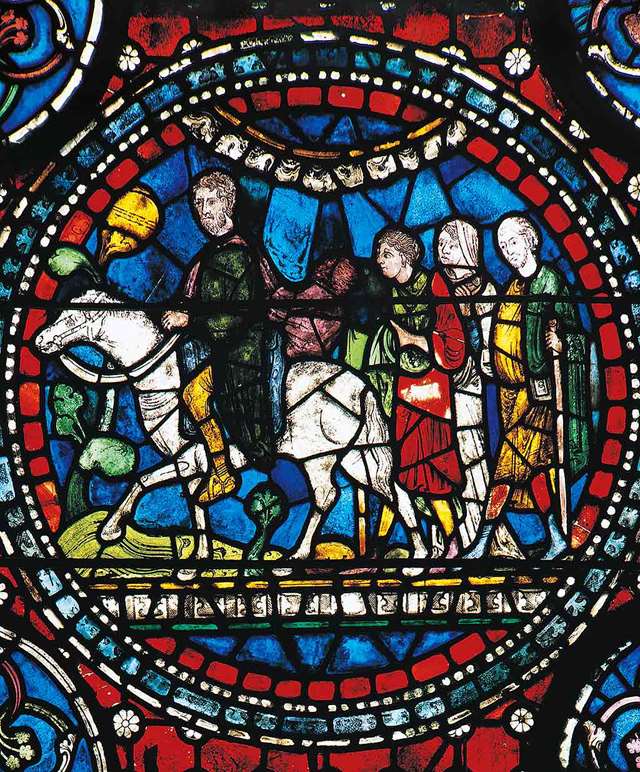 A small plaque on the wall of the church of St Nicholas in Wissant commemorates the spot where Becket sailed on 1 December 1170 on his return to England after six years of exile in France. Less than four weeks later he lay dead, murdered in the nave of Canterbury Cathedral. The inscription on the plaque includes a quote from Thomas Becket:
"I have come to risk life and limb for Justice and for Truth"
In Arras Cathedral I came across a reliquary casket which reputedly contained a fragment of the rochet ( similar to a surplice that sworn over the cassock) that Becket was wearing on the day of his murder. Interesting there are other fragments of Becket's ecclesiastical vestments held at Sens Cathedral (his Alb) and S. Maria Maggiore in Rome (his "tunicella"). Arras was on the nexus of several major mediaeval pilgrim routes including the Via Francigena and the Camino de Santiago, so it's not that surprising that a reliquary holding a bit of Becket's clothing should be found in Arras Cathedral.
The history of Laon Cathedral has some uncanny parallels with Canterbury Cathedral and Becket's murder. The original cathedral church of the diocese of Laon, dating from the 10th or 11th century, was razed during the Easter Insurrection of 25 April 1112, after talks between the merchants of Laon and the bishop broke down.
The town bourgeoisie had drawn up a communal charter which permitted them certain freedoms.
Not liking the way this was going, bishop Gaudry (previously Lord Chancellor of England under Henry I) paid the king to issue a revocation of the charter, which incited the merchant class of Laon to seek bloody revenge.
They murdered bishop Gaudry in a variety of imaginative and gruesome ways depending on the source you read.
One says he was murdered in the cathedral crypt, others that he was burnt at the stake, while another describes him being 'slain in a brawl'.
However he met his end, the mercantile mob set fire to his house (the episcopal palace), which quickly spread and reduced the cathedral to ashes.
The appetite for destruction spilled over to the peasants of Laon, who went on an enthusiastic pillaging spree, allegedly to avenge the murder of their bishop.
Not ones to miss an opportunity, three months later the clergy of Laon took relics rescued from their smouldering cathedral on tour throughout France and to England, where they raised enough money to start reconstruction work on the cathedral.
Construction of a larger building began by the late 1150s. Most of the work was completed by 1230. A local quarry donated stone to build the choir, which unusually features a flat rather than a curved eastern wall.
Laon cathedral is one of the first generation of truly 'Gothic' cathedrals in France that includes Saint-Denis in Paris, Sens, Noyon, Senlis and Notre-Dame de Paris.
Becket visited Laon during his time in exile and the western tower of the cathedral is called 'the Becket Tower' in memory of that visit.
Becket visited Clairvaux Abbey shortly before Palm Sunday 1169, one of the most important day's in the Church's calendar. In order to generate the maximum publicity, Becket timed his visit to coincide with the annual procession to the Abbey of a statue of Christ mounted on a donkey together with saint's relics. Mounting the pulpit in the Abbey, Becket announced the excommunication of a number of high ranking English prelates who had been instrumental in confiscating estates belonging to Canterbury Cathedral and defending Henry II's position in his feud with Becket.
One of those excommunicated was Robert de Broc who subsequently attempted to rough up Becket when he arrived in Sandwich from Wissant on 1 December 1170 and also appeared at Canterbury Cathedral on the day after Becket's murder and threatened to drag Becket's corpse behind horses to the gallows and hang it as a traitor's or tear it apart and throw the pieces into a swamp.
The final time I encountered Becket on the Via Francigena was in the basement of the Church of the Assumption at Rosnay l'Hôpital. Becket visited the church during his exile from England in 1170 before he returned to Canterbury to meet his tragic fate.
Saint or sinner? Becket has always divided opinion. In 2006, a BBC History poll to find 'The worst Briton of the last 1,000 years' put the archbishop second, behind Jack the Ripper but ahead of Oswald Mosley and Bad King John!
Whatever your take on Becket (upstart firebrand who betrayed the friendship of the King or zealous defender of the Church against the tyranny of the English monarchy), as you chew over the carcass of your Christmas turkey or deliberate resolutions for the New Year, spare a moment's thought to remember Thomas Becket, England's premier saint, who died this day 851 years ago.
On a final Christmassy note, it's perhaps fitting to append the words to a 15th century Christmas carol ' Listeneth lordings' (sadly expunged from English hymn books by Henry VIII and his Protestant successors):
Listen, lords, both great and small,
I shall you tell a wondrous tale,
How Holy Church was brought in bale [into sorrow]
By a great wrong.
The greatest cleric in all this land,
Of Canterbury, you understand,
Slain he was with wicked hand,
By the power of the devil.
Knights came from Henry the king,
Wicked men, without lying;
There they did a terrible thing,
Raging in madness.
They sought for him all about,
Within the palace and without;
Of Jesu Christ had they no thought
In their wickedness.
They opened their mouths very wide:
To Thomas they spoke in their great pride,
'Here, traitor, thou shalt abide,
To suffer the pain of death.
Thomas answered with mild chere, [in a meek manner]
'If ye will me slay in this manner,
Let them go, all those who are here,
Without injury.'
Before his altar he kneeled down;
There they began to cut off his crown;
They stirred the brains up and down;
He hoped for the joys of heaven.
The tormentors began their work;
With deadly wounds they began to hurt.
Thomas died in Mother Church
Attaining to heaven.
Mothers, clerics, widows and wives,
Worship Thomas all your lives;
For 52* points he lost his life,
Against the king's counsels.
(*The '52 points' refers probably to an expanded list of the 16-point Constitutions of Clarendon), on which Becket disagreed with King Henry in 1164, igniting the feud which ultimately led to his murder in Canterbury Cathedral on 29 December 1170)
If you'd like to make a donation to the 'Raise the Roof Appeal' to help renovate the roof at St Peter's Church, Winterbourne Stoke, you can do so by following this link: